Weldon Spring, MO
Weldon Spring Conservation Area
Closest Bridge: Daniel Boone Bridge - Hwy. 40/61
Ramp Location: Left Bank
GPS: 38° 39'24.59" N
90° 44'04.93" W
Mile Marker: 48.6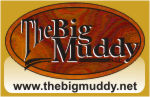 Complete USACE Charts from
KC to mouth of Missouri
Click to Enlarge
Composed Charts

DIRECTIONS:
From Hwy. 40: From Hwy 40, exit onto Hwy. 94 and travel south for 5.25 miles. The entrance will be on the left and you will proceed down the hill and cross the Katy Trail and trailhead. Continue on gravel road, following signs. The boat ramp is approx. .62 miles after you cross the Katy Trail.
West Hwy. 94: The little town of Dutzow is a hub for a number of highways in the area that lead to the Hwy. 94 and the Weldon Spring Conservation Area. These highways include Hwy. TT north of Dutzow, Hwy. 47 (a North/South connection from I-70 to I-44 and beyond), Highway 100 (which follows the Missouri River on the south side) in Washington is only a few miles from Dutzow and accessible via the bridge in Washington. Regardless of the route you came, once you hit Dutzow, look for signage for Hwy. 94. From that point it is about 18.5 miles and the entrance to the conservation area will be on your right. Follow signs to the boat ramp.

Click to view Fishing Stories
Click to view Fishing Forums
Click to view River Stories
Click to view River Forums

Copyright © 2006-2008 The Big Muddy LLC | Powered by Celox Systems LLC
Public Boat Ramp: Concrete, single wide.

Current: Moderate current. Ramp is slightly angled downstream to the current.

Docking: None

Parking: Free vehicle with trailer parking available

Fueling: None

Restroom: None on site at boat ramp, but walking distance to Katy trailhead privy.

General Comments: This is a more modest boat ramp compared to some others, but it is quite sufficient for its purpose in the middle of this beautiful conservation area.

Entertainment and Activities: In this 385 acres of conservation area, you will find Katy Trail Park access, as well as other trails, hiking trails, river access, 51 acres total of fishing lakes, managed hunting and endless natural beauty.

Click Here for Missouri Department of Conservation Page for this area for more details and contact information.
If you ever see dead links anywhere on The Big Muddy, please contact us. Thanks!